Attention All Struggling Marketers…
Give Me 5 Minutes And I Will Show You The Easiest And Fastest Way To Boost Your Creativity, Master New Skills And Triple Your Productivity Today!
 
…  Or how to generally be better than everyone else.
Dear Friend,
In the world of business, where survival of the fittest is the rule, creativity and focus are essential. In fact, it is the lifeblood of an infopreneur's business. Whether you are publishing e-books, programming software, writing articles, designing websites, or promoting affiliate programs  the truth is, explosive creativity, laser focus and a more powerful mind will not only give you more business – It will set you apart from competition.
If you have ever found yourself staring at the wall for hours of creative dry-spells, losing your focus or motivation just before the finish line, or have a hard time getting into the right productive mindset to get things done – I've got you covered.
Due to increasing demand from friends and partners going all "dude, Simon, how'd you pull this off?" I have decided to leverage my experience in high-quality brainwave entrainment audios for self-help professionals to create this unique suite of recordings specifically targeted to help you kick your productivity into high gear and be awesome like me.
And the best part – for a limited time I'm making this incredible offer of glory available to you for only $147 (see special pricing below)
If you're at all serious about taking your productivity to the next level and making going through your daily internet marketing routine a breeze, you don't want to miss out on this opportunity because…
This is your chance to grab control of the most important business asset you own – Your brain.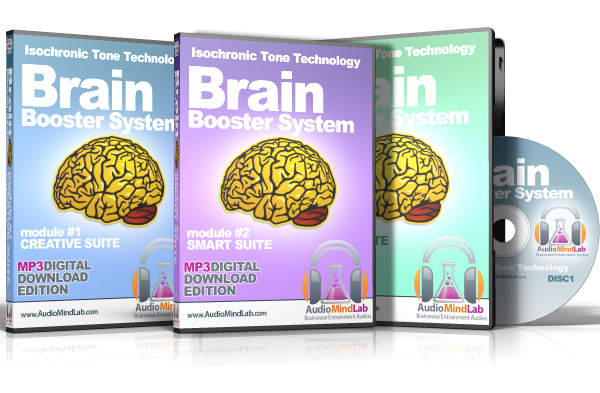 Before I bore you with the scientific mumbo-jumbo, let me tell you exactly what my Brain Booster System has been professionally engineered to do for you, your business, and your awesome lifestyle:
Puts you in charge and helps you beat procrastination once and for all.
Beats mental fatigue with your own rejuvenation oasis of calm and delight.
Doubles your productivity by giving you monk-like laser targeted focus.
Generates a storm of inspiration to rock your content creation efforts forward.
Gives you access to an unlimited stream of profitable ideas to drink from.
Unlocks legendary rewards and bounties as you explore exciting new opportunities.
Speeds up learning and skill mastery to give you big kahuna proficiency fast
Slashes away distractions with more zeal than than a high school librarian.
Helps kick more ass, faster, win at life and generally be better at everything!Item #2
… okay, I'm so excited, I can't even talk about it anymore…
My point is – Grab your copy today, it'll make you awesome.
When you look at all the ways you will benefit, at this price it's an absolute steal. I could honestly charge over a hundred dollars for this productivity suite – and my competitors have no shame doing so – but I'd rather blow you away with small priced quality products and bank on the coolness factor.
Okay – Tell me what's it all about anyway?
This exclusive Brain Booster System utilizes military-grade technology to change your mental states and alter your bodily functions in a snap through carefully applied sound patterns, tones  and frequencies.  (There is much to say about the technology behind this product and a picture is worth a thousand words so let me illustrate the concept for you...)
In other words, it helps show your pesky brain who's the boss and puts you back in charge by using the brain's behavior of adapting it's electrical response, or the flow of brainwaves, to rhythmic sensory stimulation, such as pulses of sound.
This series of audio files, when played on your stereo before or while you work, will give your brain the mental workout needed to achieve peak performance and breeze through the tasks ahead.
Just as exercise strengthens your body, my Brain Booster System is the perfect tool to keep your brain in tune.  I'm not even kidding! A bunch of brainy folks have already spent over 70 years and millions of dollars backing this scientific research…  (you can read more about that here)
But we're not in the business of being brainy now are we?
We're in the business of being smart. And since we're both smart, I've decided to make this technology available for you to use within less time than it would take you to whip out an espresso, and for less than what those dudes in white coats spend on paperclips alone each year. Because smart people like each other. It's in our nature.
Before I let you go ahead and reserve your copy today, allow me show you exactly what you'll find as part of your Brain Booster System when you place your order:
Module 1 – The Brain Booster Creative Suite: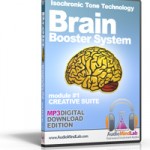 Your Brain Booster Creative Suite contains a mind-blowing selection of audio sessions you can use to instantly get your creative juices flowing, get more done by relaxing the mind  leverage whole-brain thinking to generate and apply new ideas, as well as help you get in the Zone to perform creative tasks such as writing and creating content a breeze.
Make Sure Your Creativity Never Runs Dry When You Need It The Most
Discover The Secret Recipe Behind Generating Unlimited Creative Ideas
Learn Proven Techniques To Get Your Creative Juices Flowing On Command
Master The Best Ways To Cultivate and Care For Your New Found Creativity
Brainstorming Session  15 Minutes
Creative Focus Session  30 Minutes
Relaxation Session      10 Minutes
Module 2 – The Brain Booster Smart Suite: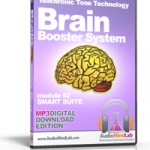 Your Brain Booster Smart Suite includes my favorite sessions destined to help you achieve arch-genius intelligence, increase your focus, reduce distractions, clear mental clutter and process information faster and more accurately.
Boost Your IQ and Memorize More Information In Less Time
Stay Laser Focussed On Your Tasks For Long Periods Without Fatigue
Double Or Even Triple Your Output By Better Processing Information
Easily Reset Your Attention And Clear Your Mind Of Clutter
Smart Focus Session 45 Minutes
Data Consolidation Session 15 Minutes
Module 3 – The Brain Booster Action Suite.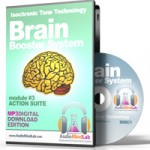 With this new exciting modules created specifically to shock you into action, procrastination becomes a thing of the past. The Brain Booster Action Suite will help you kick away the rainy day blues, give you more energy than a raging bull on a caffeine overdose, kick performance related stress in the balls and lift your mood to new levels without the use of harmful drugs for the health and results conscious among us.
Shock Yourself Into Taking Action And Kick Procrastination To The Ground
Get More Energy Than A Raging Bull On A Caffiene Overdose
Banish The Blues And Bad Moods Instantly And Regain Focus
Give Your Mind A Morning Warm Up Without Energy Crash or Jitters
Peak Performance Session 15 Minutes
Go Getter Session 15 Minutes
Blues Buster Session 15 Minutes
Mind Rise Session 15 Minutes
Using your Brain Booster System couldn't be any simpler.  Load the audio sessions and listen to them as you need to complete specific tasks or whenever you feel your brain engine powering down and are in need of an injection of awesome.
The more you use this technology, the more your mind grows, taking your productivity to the next level , giving you more control over your creativity, helping you escape distractions, master new skills, and get more done in less time.
Whatever you pay for this program today, I promise it will drop hundred times more shiny dollars in your pockets consistently simply by leveraging your new found advanced productivity. You can thank me later.  So go ahead, place your order now. It's like shaving off 20 years of super-secret ninja mental training for one low one-time fee… It's the ugly button right below. Yeah, that one.
Here's my Results Multiplier Guarantee:
If you're anything like me, you hate having to risk even a penny on a speculation.  And since I don't want you to risk anything when you say yes to my offer today, and because I'm a bit of a kamikaze, I'm going to give you 100% your money back if I don't deliver on my promise.  Here's how it works. Place your order right away and take a full 30 days to evaluate the product. If at any time during this 30 days you feel like this product is not for you for any reason whatsoever, just hit my support desk and ask nicely for a refund. A member of my staff will quickly follow up with your request, and we part as friends.
Even better, download your Brain Booster System today and start using it for a full 60 days. If after this period your productivity has not doubled by implementing this exclusive technology in your daily routine, contact me and let me know. And I'll still refund every penny.
With this in mind, you have absolutely nothing to lose!  Act today and get my Brain Booster Report as my welcome gift to you – No catch!
Bonus Offer –The Brain Booster Report:  My Brain Booster Report is a concise 14 page report covering the science behind brainstorming and creativity and is full of actionable techniques and exercises to improve your results right away.  Seeing how powerful this report is and the amazing impact it can have on your business as you churn out profitable ideas after profitable ideas, I could easily charge more than the price of this program alone for this invaluable information.  And you're getting it completely free of charge when you order today. I'm that nice.

That's it folks.  By sharpening your mind and harnessing explosive creativity and laser-like precision, surpassing your competition becomes as simple and thoughtless as filling a glass of water.  And remember the risk is on me. Go ahead, grab your copy now.
P.S: Start using the Brain Brain Booster System to kick your internet marketing business – or any kind of business – into high-gear.
Go ahead, order now.